Headaches became trending this week. Everything moves around them.

Whenever I open up to read something new, there they are. Headaches and their possible cures.
Maybe the Internet wants to tell me something. This holiday season could give me lots of headaches.
I'm not worried. I've read and shared with you a couple of solutions. I'm ready.
Jokes aside, no one wants to feel this pain. However, every time you get a headache something is different.
I mean, the pain is there and takes over your head, but sometimes it's a different spot and intensity.
Depending on that place where your head hurts the most, it might mean you are on the verge of developing a serious health problem.
Now, I don't mean to scare you and stuff like that. I just want what's best for you. That's why I share these things.
If you are waking up with a headache every morning, you should check that up with your doctor. It could indicate sleep apnea, high blood pressure or even tumor in your brain.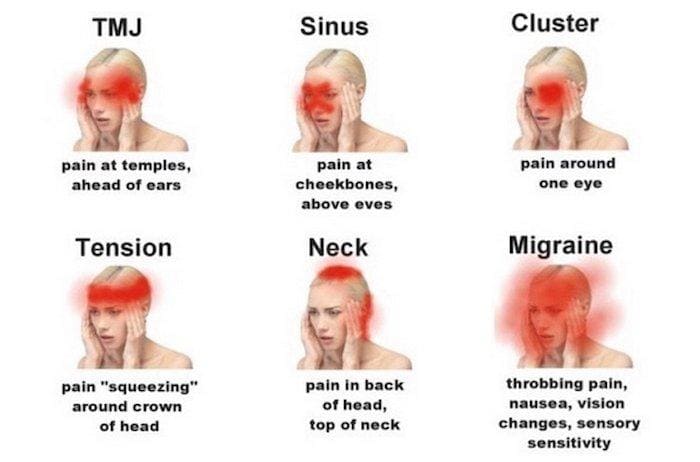 Very often, headache types vary according to location. I have found the most common ones.

Pain only in the half of your head
If you suffer from constant headaches that target only one-half of your head, then it's a sign of a migraine.
You will definitely recognize this pain because it's constant and it could last up to 72 hours. The pain slowly starts with moderate strength. Then, it transforms into severe.
Nausea and sensitivity to noise and light are very common.

Feeling like someone squeezes your head
Have you been feeling a little bit tensed for the past few days? If yes, then this headache is from tension.
It holds that nervous medium intensity of pain while you are feeling like someone squeezes your head.
It occurs to large stress. You will feel better if you get some nice sleep.

Pain in one side of your face followed by swelling on the eyelids
This is called the seasonal headache. It's strong and last in cycles. You could feel this pain from 2 weeks up to a month.
It comes and goes in a certain period of years. The duration of pain is different every day. But it usually occurs at the same time of the day or night.
Maybe this is the most common of all. Inflamed sinuses cause it. This pain could be felt from your cheekbones and up to your forehead.
In this case, take a steamy shower or do an inhalation. It will improve your condition right away.

Pain in the back of your head
If you are having problems with your spine or neck, it leads to a headache. This goes for those who have a sitting job.
This headache occurs from sitting for too long.
If you catch yourself not getting up for a longer period of time, get up. Stretch a little bit. Do some simple movements or stretching with your head.
This will definitely make you feel better.
There you have it. Some experts believe keeping a diary of your headaches will help you determine what's wrong with you.
The diary should include how often your headache appears, at what time, the point of pain, how strong and how long it lasts.
Based on this, your doctor will be able to diagnose your headache.
Is someone of your friends suffering from a headache? – Show this to them.