Before I tell you this, let me share a story with you. I think it happened to me maybe 17 years ago.

I was just starting to read more about nutrition and healthy foods. So, I was on the verge of becoming a nutritionist.
During that period of my life, I was mostly eating healthy foods. Mostly.
I was obsessed with sugar and processed foods. I suddenly started feeling pain in my stomach. A really strange pain.
There was a strange taste in my mouth. Like the acid from my stomach was going up and down all the time.
It scared me and I visited my doctor. She couldn't find anything wrong with me. Every single organ of mine was working properly.
I knew that something is wrong with me, but couldn't figure it out.
I've read some stories on the Internet of people curing themselves with water. After I began drinking 2-3 liters a day, I started feeling better.
The water helped my metabolism process the food better and flushed it from toxins that caused all that pain.
At least that was my theory back then.
Now, it's time for me to introduce you to alkaline water.

What is Alkaline Water?
It's regular water, but with an increased pH rating. Adding some ingredients that will make it more alkaline or acidic increases this rating.
By drinking it, you will alkalize your body bringing the balance back to normal.


This is how you regulate and protect yourself from all the problems that come with the acidic body.
If you want to find out everything about an acidic body and what comes with it, follow this link.

I started drinking Alkaline Water, but I don't know the benefits of it?
Worry no more. I got you covered.
While I was writing this, on the right side I saw an ad leading me to a research.
This served as evidence to confirm all the benefits of drinking water like this.
So, if you doubted its benefits, here is what I found.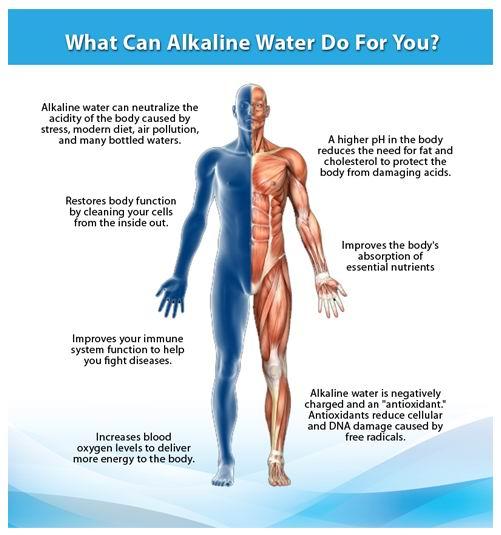 Yes. All that.
If you need more proof, you can read this study and alkalize!
Now, it's time for me to show you how to make the best alkaline water at home.
I found 3 recipes that are the best fit for this occasion.

Lemonizing your water
This one here is very simple with huge benefits.

Fill up a bottle (or tall pitcher) with clean water (1½ liters)
Cut a lemon in pieces and put them in the bottle
Don't squeeze the juice from the lemon
Drop them into the bottle with the water
Allow them to soak in it for 10 hours
Refresh!
Baking soda and Water
Important note: If you are on a low-sodium diet, avoid this kind of water.

Dissolve 1/8 teaspoon of baking soda into an 8-ounce glass of clean water
Stir until clear
Cheers!
Cucumber to the rescue!
We are going to change the structure a little bit. This time, I brought up backup.

Half a cucumber sliced in circles
A whole organic lemon cut in cubes
1 ½ of Clean water
Put them all together in a bottle and leave overnight
Drink
There you go. Make sure you check these similar detox water recipes while you are at it.
Maybe you have an alkaline water recipe you use? Share it with me.
If not, these recipes should be shared with your friends. It's up to you to click on the share buttons below.