I really can't believe what's happening with Johnson & Johnson. When I gave birth to my little girl, I was using their products.
Reading this harmful effects is ridiculous. I was always finding the way to have doubts about it, but now the company admits they were wrong all this time?
Tell me one possible reason why you shouldn't be angry about it?

What's in the products?
Formaldehyde.
Johnson & Johnson products contain this chemical and studies say that it could cause cancer. You are getting chills all over your body just by thinking about it.
For those who don't know, formaldehyde is used as an embalming agent when taking a corpse ready for burial.

What's so scary about it?
It's still unclear why this chemical is cancerous, but the "how" is quaternium-15
I don't know if you noticed, but when you put the shampoo on the skin, there are little red dots showing up on the baby's skin. That's rare, but the eyes and respiratory irritation are often happening.

There is more!?
Johnson & Johnson's products contain another dangerous chemical. Their products are like a cocktail of cancer-causing chemicals.
The second chemical is 1,4-dioxane with carcinogenic properties. It's a brain toxin that can cause significant damage to the central nervous system, kidneys, and liver.
The more I write about this, the more I want to go in the company and ask them if they are out of their minds.
We are using these products on KIDS!

The Official Statement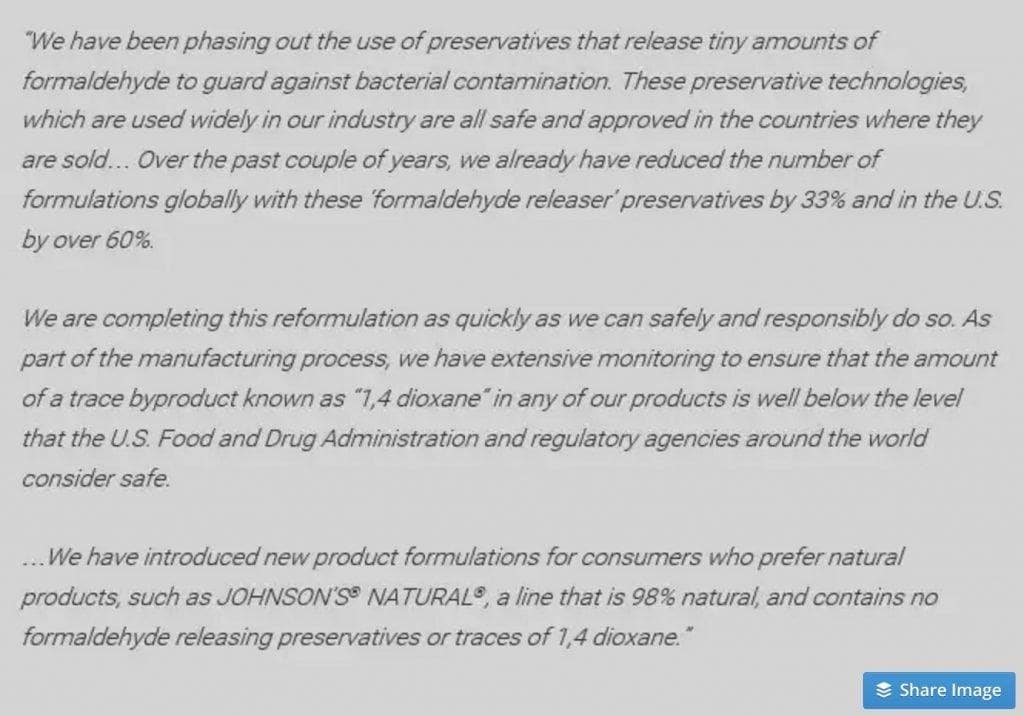 How come something you use is safe, but you are reducing the number of formaldehyde preservatives?
The statement is contradictory.

READ!
Reading the labels is not something you need to skip while purchasing products for your kids.
It's the only solution you can do to prevent any probable damage. Google the ingredients and see what the studies say about it.
Be safe!